Our Dams - CH Andandre Cajun Red Flash
CH Andandre Cajun Red Flash
We are very proud of our little home-bred red girl. Cajun was born April 14, 2014 from our USA imported girl Andandre Scarlet Rouge O`Rosaline X Nicabell Red Melody of Andandre. Since Cajun was born, I knew that I could never let her go in a pet home. Seeing that she was the only puppy, I decided on the spot that she will stay with us - hoping that she would enjoy showing seeing that her mother did not :-)
Cajun is a perfect square built, in-sizeToy Poodle with exquisite coat texture in a glowing red colour, ink black pigment, perfectly almond shaped eyes and an extreme loving and outgoing nature. She loves attention and is a real eye-catcher. She surely makes heads turn when she is on the move.
Cajun received her Championship title in August 2015. We are very proud of this little girl! Cajun will be a real asset to our future breeding program.
A huge thanks to all our friends, family, local- and international judges whom has found our precious girl worthy.
Many many thanks.
| | | | |
| --- | --- | --- | --- |
| Cape Town Kennel Club | 20 October 2013 | Best Puppy, RCC | Judge Mr Helmut Redtenbacher |
| Western Province Kennel Club | 27 October 2013 | RCC | Judge Mrs Tong Sue Lynn (Singapore) |
| Kennel Association | 1 March 2014 | RCC | Judge Mrs E Reubenheimer |
| Liesbeek Kennel Club | 2 March 2014 | RCC | Judge Mrs Mc Cluskey |
| Uitenhage Kennel Club | 4 April 2014 | Best Puppy, CC | Judge Ms J Browning |
| Port Elizabeth Kennel Club | 5 April 2014 | Best Puppy, RCC | Judge Ms R Hanworth |
| Walmer & Suburban Kennel Club | 6 April 2014 | Best Puppy, RBOB, CC | Judge Mrs HA Gouws |
| West Coast Kennel Club | 29 May 2014 | RCC | Judge Mrs Jenny Canning |
| Outeniqua Kennel Club | 15 June 2014 | RCC | Judge Mr CP Reaney |
| TKC Kennel Club | 11 October 2014 | RCC | Judge Pauline Suhr |
| Utility Breeds Club of Gauteng | 11 October 2014 | RCC | Judge Miss Nikki Redtenbacher |
| Grand Central Utility Breeds | 12 October 2014 | RCC | Judge Mr Ronald Tolson |
| Cape Town Kennel Club | 19 October 2014 | CC | Judge Mr Erodotos Neofytou (Cypres) |
| Cape Utility Dog Club | 24 October 2014 | 1st place in GRADUATE class | Judge Mr J Becerra (Puerto Rico) |
| The Mother City Poodle Club | 24 October 2014 | 1st place in GRADUATE class, RCC | Judge Mr S Oates (Ire) |
| Western Cape Championship Show | 25 October 2014 | RCC | Judge Ms L Harwood (Australia) |
| Hottentots Holland Kennel Club | 26 October 2014 | RCC | Judge Mr JN Meyer |
| Kennel Association | 28 February 2015 | RCC | Judge Mrs J Sayers |
| Liesbeek Kennel Club | 1 March 2015 | RCC | Ms J McFarlane |
| Windhoek Dog Club | 25 July 2015 | BOB, CC | Judge Mr Espen Engh (Norway) |
| Hochland Dog Club | 25 July 2015 | BOB, CC | Judge Mrs HC Gouws |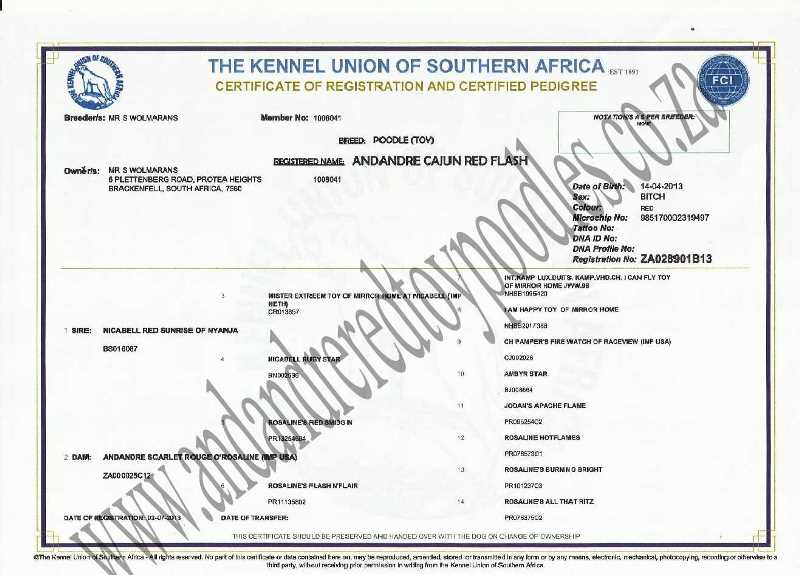 Photo Gallery
Our Dams - Andandre Cajun Red Flash